Our company designs and produces customised wind tunnel models
We study, and produce complex models, in terms of aerodynamic configurations, or in terms of weight or size. Our models may be produced in carbon fibre or CNC machined in aluminium. The models can be powered.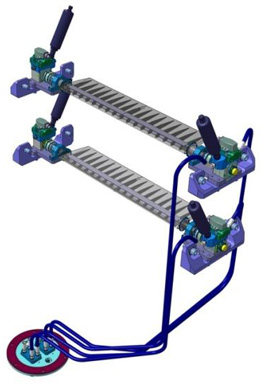 générateur de rafale
windtunnel cleansky
Study, CAD design with Catia software of wind tunnel models.
Structural design;

CAD installation of specific sensors (pressure probes, accelerometer, control surface position sensor, …);

CAD installation of actuators for control surfaces;

Powered models;

Rapid prototyping.
de la MAQUETTE à la SOUFFLERIE
Wind tunnel models can be manufactured in
Composite with CNC high density resin molds;

Aluminum structure with composite skin;

High density resin CNC milling.
Very light weight wind tunnel models (<30 kg)
with large wingspan (>3m)