CNES / ONERA

EOLE
PROGRAM
Design and production of a sub-scale demonstrator of a first stage innovative rocket
Program developed by the CNES ( National Center for Space Studies ) in cooperation with ONERA ( National Office for Aerospace Studies and Research ) in the fields of the Perseus project ( www.perseus.fr ).
Objectives: Design and produce a sub-scale demonstrator of a full scale aircraft that can carry and launch a fully instrumented powered rocket at high altitude.
This drone shall be used as a modular test bench for the following purposes :
Verification of the rocket separation;

Verification and live test of different aerodynamic configurations;

Possibility to load up scientific experiment modules;

Shall be similar in inertia, relative mass and relative speed to the full scale aircraft.
Eole will be fitted with an auto pilot system including GPS navigation capability and a ground pilot station.
It is equipped the an on-board video system capable of capturing sequences of the launch phase.
EOLE has been CAD designed and drawn by Aviation Design in collaboration with the ONERA and is patented.

EOLE characteristics
Large aspect ratio flying surfac;

Twin boom configuration;

Original half butterfly tail plane;

Span: 6,7 m;

Length: 2,7 m;

Wing area: approximately 2,6 sqm;

Maximum takeoff weight: 150 kgs;

Empty weight: 70 kg;

Rocket and launch system mass: 50 kg;

Fixed main gear;

Power plant: 2 AMT Titan micro jet engines (2 x 39 DaN thrust);

Fuel : 2 x 18 liters of bio-diesel or kerosene;

Full carbon/epoxy manufacturing.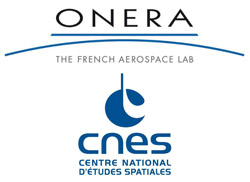 We supplied the following services on the project
Overall external design;

Aerodynamic optimization with the ONERA;

3D CAD design, turbine engine integration, retracts design…;

CNC molds milling;

Carbon / honeycomb molding;

General assembly;

Autopilot design and production;

Electrical loom design;

Experimental ground pilot station design;

Test flight services: first flights, flight in test center;

Maintenance.
All the flights were conducted under the responsibility of CNES with the ONERA and Aviation Design team.
Eric Rantet, President of the Company followed all the flights personally.